Seats 6
TOTAL JETS
40
DIMENSIONS*
84" x 84" x 37" (214 cm x 214 cm x 94 cm)
DRY WEIGHT
lbs. ( kg.)
TOTAL FILLED WEIGHT
4507 lbs. ( kg.)
AVERAGE SPA VOLUME
360 US gallons (1324 liters)
ELECTRICAL

PUMPSPrimary:
1 speed, 2.5 continuous hp hp (4.5 bhp*)
Secondary:
1 speed, 2.5 continuous hp hp (4.8 bhp*)
FILTRATION

FILTERS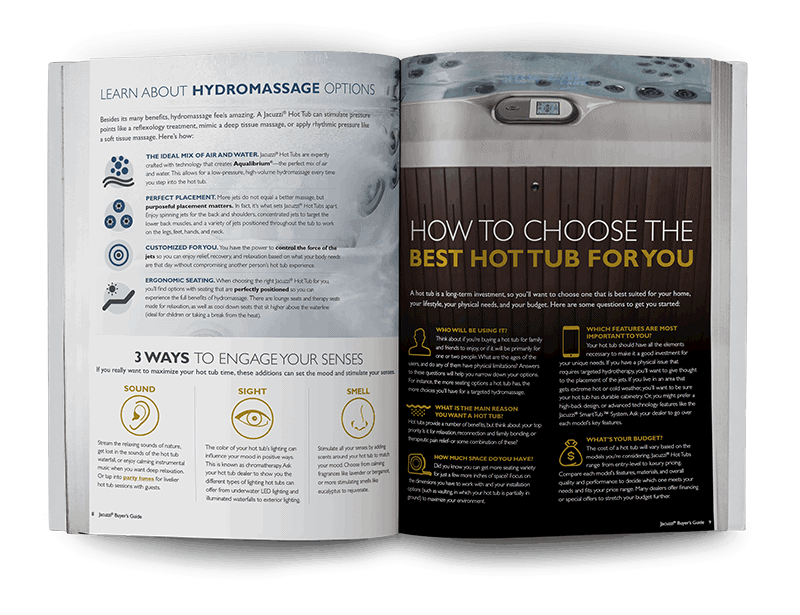 Designed to deliver a relaxing yet stimulating massage, the midsize J-335™ Hot Tub model features a compact lounge seat and enough seating for 5-6 adults. This hot tub model boasts PowerPro® Jets that work to ease the tension in your muscles and help reduce your overall stress. This spa showcases a HydroSoothe™ no-splash jetted massage pillow and delivers full-body relief in a Petite ProAir™ Lounge seat.
While this high-performance hot tub is certainly appealing, don't forget to check out our other models in the J-300™ Collection. We also provide a vast selection of hot tub accessories, from spa covers to steps, to personalize your tub.
Jacuzzi® Hot Tubs are equipped with a variety of jets that contribute to an exceptional hydrotherapy experience. PowerPro® Jets come in many varieties, targeting different areas of your body with premium hydromassage, from tense shoulders to sore calves.
Specialty PowerPro™ BX and FX-L Jets
The combination of Specialty PowerPro™ BX and FX-L Jets create the ultimate hydromassage experience. Soothing streams of water are used to provide you with a whole-body hydromassage, from the BX bubbler jets that focus exclusively on the calves to invigorate tired muscles and refresh your skin, to the FX-L jets that apply the perfect combination of air and water to help ease tension in small muscle groups.
Jacuzzi® Hot Tubs are equipped with a user-friendly digital control panel, perfect for operating the various features and controls of your hot tub. The LED illumination can help to improve visibility and create a more user-friendly experience, especially once the sun goes down.
CLEARRAY Active Oxygen™ System
Standard on all new Jacuzzi® Hot Tubs, CLEARRAY Active Oxygen™ harnesses the natural, safe and effective power of oxygen and light to treat the water, keeping it cleaner and safer for longer. Monitor and control this water management system with help from the digital controls or your smartphone app.
Monitor and control the water management system in your hot tub with help from CLEARRAY® On-demand. Operate the maximum filter processes and filter the water inside your Jacuzzi® Hot Tub as needed.
The SmartTub™ System can help you take an advanced approach to hot tub ownership. Connected via an app, you can monitor, control and interact with your Jacuzzi® Hot Tub from afar. Not to mention access to a number of helpful resources and support.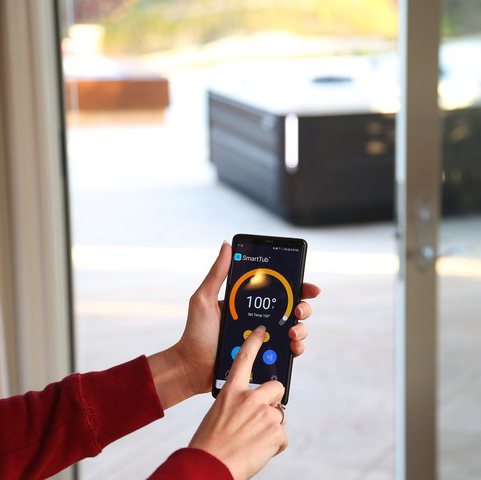 ProLast™ Extreme Outdoor Cover
The ProLast™ Extreme Outdoor Cover fits and seals the top of your hot tub perfectly, keeping operational costs low through premium insulation and water clean by preventing debris from entering the spa. Not to mention that each cover is custom fit and built with durable materials, for an effective and long-lasting experience.
ProClarity® Circulation Pump Filter
Robust and durable, the ProClarity® Circulation Pump Filter keeps the hot tub water in motion, sending it through the filter to catch and remove debris. From large debris to small contaminants, this circulation pump filter can help to keep your water clean, sparkling, and free of contaminants.
Heat-reflecting insulation made for the coldest winters.
Designed with safety in mind, the exterior lights installed into each Jacuzzi® Hot Tub can help guide you when entering and exiting the hot tub after dark. This exterior illumination can also contribute to the style and atmosphere of your backyard space. Complete with LED technology, these lights last longer and cost less to operate.
Your HotTub at your fingertips
Intuitive and user-friendly, sophisticated control panels enable full control over each hot tub and remove Wi-Fi monitoring.
The exclusive SmartTub™ System:
Easily connects to an app on your smartphone within seconds

The SmartTub™ System is equipped with the ability to connect to a LTE/4G network

Maximizes relaxation, recovery, and performance potential
Makes maintenance and care easer than ever
Offers easy access to product knowledge and support
Enables remote control of settings and features
Alerts your dealer when maintenance is required
Do you have a question about the cost of a certain product? Complete the form and a member of our team will be in touch with all of the pricing information that you need to get started.