Seats 7
TOTAL JETS
49
DIMENSIONS*
91" x 91" x 37.5" - 43.5" (231 cm x 231 cm x 95 cm - 110.5 cm back)
DRY WEIGHT
lbs. ( kg.)
TOTAL FILLED WEIGHT
5336 lbs. (2421 kg.)
AVERAGE SPA VOLUME
435 US gallons (1647 liters)
ELECTRICAL
240VAC 60 Hz @ 40A, 50A or 60A
PUMPS
Primary:
Secondary:
FILTRATION
ProClarity™ Filtration System with Grill, Skimming Weir and ProCatch™ Bag + ProClear™ Pleated Filter
FILTERS
1 - ProClarity depth load filter (circ), 1 - ProClarity 40 sq ft filter (circ), 1 - ProCatch bag with ProClear 60 Sq ft filter (hydro)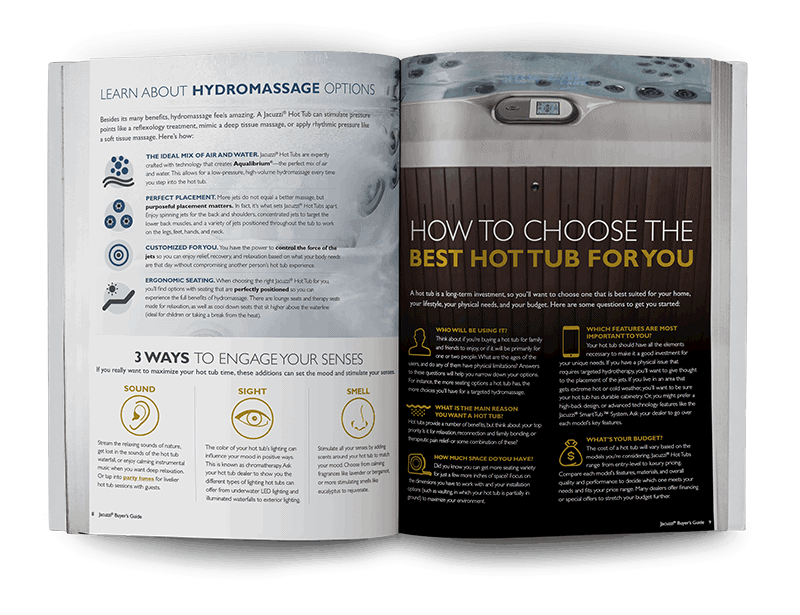 The J-485™ Hot Tub provides neck-to-toe muscle relief with a high-back design and adjustable pillow for enhanced relaxation at any height. With a roomy, open-seat design with 6-7 seats, this J-400™ Collection model is set apart by its stunning Pro-Finish™ cabinetry, corner accent lighting, and an exclusive extra-wide illuminated waterfall that provides a relaxing cascade of warm water down the neck and back.
5-Stage Filtration System
The 5-Stage Filtration System operates using the powerful hydromassage pump in your hot tub to circulate the water, sending it through the ProClear® Filter to remove large and small particles alike. This rigorous process continues around the clock, so you can enjoy clean and safe water whenever you wish.
The comfortable and adjustable headrests inside your Jacuzzi® Hot Tub make it easy to sit back and relax, so you can make the most of your hydrotherapy experience. Not only are the pillows designed and built with your comfort in mind, but they are also adjustable for people of all heights.
Monitor and control the water management system in your hot tub with help from CLEARRAY® On-demand. Operate the maximum filter processes and filter the water inside your Jacuzzi® Hot Tub as needed.
Distinct High Back Design
The distinct high-back design of the ergonomic seats creates an elegant look while catering to different sizes and heights. Each seat features an ergonomic design, built to support your body with natural curvature. This build allows you to completely relax your body and let go of tension.
Floating Propolymer™ Foundation
Impervious to both nature and moisture, the Floating Propolymer Foundation makes installation easy. This innovative foundation can help to create a more structurally sound installation while helping to improve longevity with resistance to the elements.
The illuminated cup holders can help to increase visibility, especially while at night. The LED illumination can help you to find your drink when it's time for a sip, and then place it back down without a spill.
There's nothing quite as relaxing as the peaceful sounds of trickling water. Further increase the ambience of your next soak by engaging the LED illumination, which highlights the beautiful and tranquil aesthetic of the waterfall inside your spa.
Jacuzzi® Hot Tubs are equipped with a variety of jets that contribute to an exceptional hydrotherapy experience. PowerPro™ Jets come in many varieties, targeting different areas of your body with premium hydromassage, from tense shoulders to sore calves.
ProClarity® Circulation Pump Filter
Robust and durable, the ProClarity® Circulation Pump Filter keeps the hot tub water in motion, sending it through the filter to catch and remove debris. From large debris to small contaminants, this circulation pump filter can help to keep your water clean, sparkling, and free of contaminants.
The striking design of the ProFinish™ cabinetry features optional corner lighting inspired by timeless architecture with a touch of modern influence. This design undoubtedly draws the eye to the spa, while also contributing to a safer environment. And, an illuminated status light to provide a quick indication from afar.
The ProTouch™ Control panel provides you with a user-friendly approach to monitoring the status and health of your hot tub, schedule maintenance reminders, and adjust temperature, light, and jet functions. This control panel can be easily connected and linked to the SmartTub® System app for remote operation.
Specialty PowerPro™ FX-D, RX and PX Jets
PowerPro™ RX Jets can be rotated to point in any direction you want, while also adjusting the pressure, so you can apply the steady pressure to the large portions of your back that need it most. Small muscle groups can largely benefit from the FX-D and PX Jets, as they deliver a continuous pulsing massage to areas like the wrists, calves, heels, and tender arches.
The Status Indicator Light can alert you when your hot tub requires maintenance, cleaning or repair. Using the control panel or SmartTub™ System app, you can look further into the problem and organize professional hot tub service as needed.
Tool-Free Cabinet Removal
Access the vital parts of your hot tub with ease, with help from the tool-free cabinet removal design. In a few simple steps and with virtually no strain on your body, you can easily open up the cabinet door for regular service, cleaning, maintenance, and repair.
Designed with safety in mind, the exterior lights installed into each Jacuzzi® Hot Tub can help guide you when entering and exiting the hot tub after dark. This exterior illumination can also contribute to the style and atmosphere of your backyard space. Complete with LED technology, these lights last longer and cost less to operate.
Heat-reflecting insulation made for the coldest winters.
The SmartTub™ System can help you take an advanced approach to hot tub ownership. Connected via an app, you can monitor, control and interact with your Jacuzzi® Hot Tub from afar. Not to mention access to a number of helpful resources and support. The latest Smart Heat Mode also allows you to schedule and control the temperature of your hot tub automatically.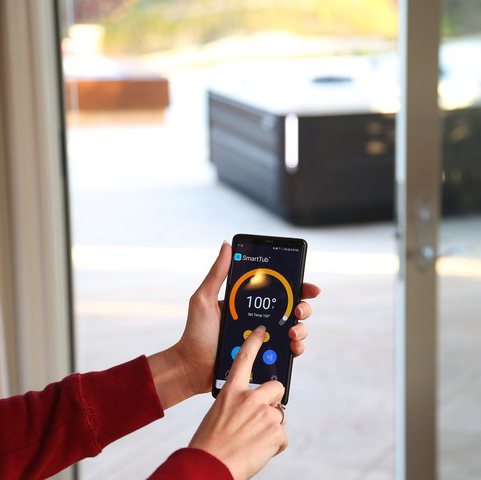 Your Hot Tub at your fingertips
Intuitive and user-friendly, sophisticated control panels enable full control over each hot tub and remove Wi-Fi monitoring.
The exclusive SmartTub™ System:
Easily connects to an app on your smartphone within seconds

The SmartTub™ System is equipped with the ability to connect to a LTE/4G network

Maximizes relaxation, recovery, and performance potential
Makes maintenance and care easer than ever
Offers easy access to product knowledge and support
Enables remote control of settings and features
Alerts your dealer when maintenance is required
Automatically schedule and control the temperature with the new Smart Heat Mode.
Do you have a question about the cost of a certain product? Complete the form and a member of our team will be in touch with all of the pricing information that you need to get started.