Seats 6
TOTAL JETS
49
DIMENSIONS*
91" x 91" x 37.5 - 42" (231 cm x 231 cm x 95 - 107 cm)
DRY WEIGHT
445 lbs. (407 kg.)
TOTAL FILLED WEIGHT
5446 lbs. (1685 kg.)
AVERAGE SPA VOLUME
445 US gallons (1685 liters)
ELECTRICAL
240VAC 60 Hz @ 30A, 50A or 60A
PUMPSPrimary:
1 speed, 2.5 continuous hp (5.1 bhp*)
Secondary:
1 speed, 2.5 continuous hp (5.1 bhp*)
FILTRATION
ProStream™ Circulation Pump, ProClarity™ Filtration System w/ Grill, Skimming Weir and ProCatch Bag + ProClear™ Pleated Filter
FILTERS
1 - ProClarity® depth load filter, 1 – ProClarity® 40 Sq ft filter, 1 – ProClear® 60 Sq ft filter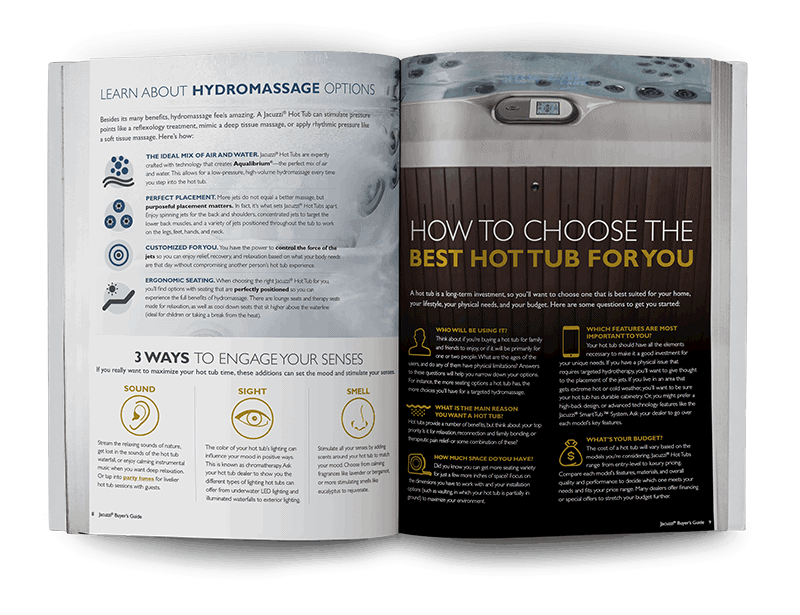 The J-575™ Hot Tub is the next generation of backyard luxury, showcasing a unique curvilinear design and therapeutic lounge seat for full-body relaxation with more back and hip coverage. Indulge in the eye-catching elements, inspiring technology and advanced hydromassage of the J-500™ Hot Tub Collection. Showcasing the most impressive exterior and lighting elements, featuring the greatest massage variety available in any collection, and industry-leading hot tub technologies with a glass touch-screen control technology, you'll never look at hot tubs the same way again.
With room for 5-6 adults, the breathtaking J-575™ Hot Tub also features a therapeutic lounge seat for full-body relaxation. This hot tub boasts a new PowerPro® FX Directional Jet designed to relieve tension and improve circulation in the hips. Highlights a designer woven exterior and architectural corner lighting outside, and dual ProEdge™ Waterfalls and interior illumination inside.
The SmartTub™ System can help you take an advanced approach to hot tub ownership. Connected via an app, you can monitor, control and interact with your Jacuzzi® Hot Tub from afar. Not to mention access to a number of helpful resources and support.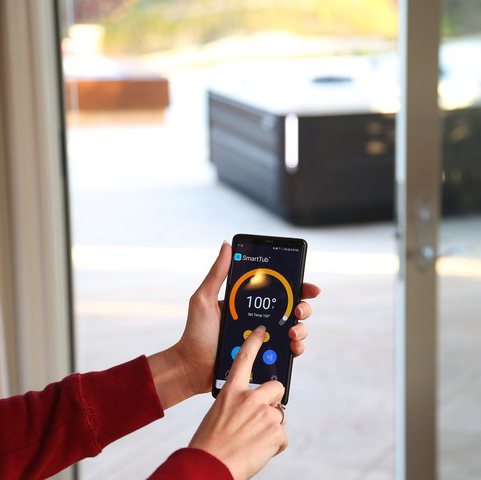 Each Jacuzzi® Hot Tub features a design that is built with safety and style in mind, especially with the dual-elevated edges. This revolutionary architecture creates a timeless look while limiting water flowing or splashing over the edges.
Curvalux™ Designer Woven Exterior
The premium Curvalux™ exterior mimics the quality of high-end patio furniture, leading to a seamless backyard installation. Enjoy a modern shape with an elevated silhouette, wall-mounted controls, highlighting dual waterfalls for a soothing massage experience, and revolutionary architectural lighting design integrated into the cabinetry.
Your Jacuzzi® Hot Tub is equipped with a state-of-the-art touchscreen control panel. The contemporary and sleek design of your spa is only amplified by this glass control panel, blending into the design seamlessly.
Jacuzzi® Hot Tubs are equipped with a variety of jets that contribute to an exceptional hydrotherapy experience. PowerPro® Jets come in many varieties, targeting different areas of your body with premium hydromassage, from tense shoulders to sore calves.
The BLUEWAVE® Spa Stereo System delivers premium sound through the speakers in your Jacuzzi® Hot Tub. Listen to your favorite radio station or stream music from your mobile device using Bluetooth connectivity, from up to 30 feet away. A marine-rated seal in the docking area keeps things dry and moisture out.
ProLast™ Extreme Outdoor Cover
The ProLast™ Extreme Outdoor Cover fits and seals the top of your hot tub perfectly, keeping operational costs low through premium insulation and water clean by preventing debris from entering the spa. Not to mention that each cover is custom fit and built with durable materials, for an effective and long-lasting experience.
Your HotTub at your fingertips
Intuitive and user-friendly, sophisticated control panels enable full control over each hot tub and remove Wi-Fi monitoring.
The exclusive SmartTub™ System:
Easily connects to an app on your smartphone within seconds

The SmartTub™ System is equipped with the ability to connect to a LTE/4G network

Maximizes relaxation, recovery, and performance potential
Makes maintenance and care easer than ever
Offers easy access to product knowledge and support
Enables remote control of settings and features
Alerts your dealer when maintenance is required
Explore the J-500™ Collection from Jacuzzi® Hot Tubs. This collection can be seen at our showroom in Ohio
Do you have a question about the cost of a certain product? Complete the form and a member of our team will be in touch with all of the pricing information that you need to get started.