Seats 6
TOTAL JETS
34
DIMENSIONS*
84" x 84" x 36" (213 cm x 213 cm x 92 cm)
DRY WEIGHT
740 lbs. (336 kg.)
TOTAL FILLED WEIGHT
3627 lbs. (1981 kg.)
AVERAGE SPA VOLUME
355 US gallons (1344 liters)
ELECTRICAL
240 VAC 60 Hz @ 50A or 60A
PUMPS
Primary:
Secondary:
FILTRATION
CLEARRAY® UV-C Technology + Filtration
FILTERS
MicroClean® I filtration system with floating weir, 125 ft² combined filtration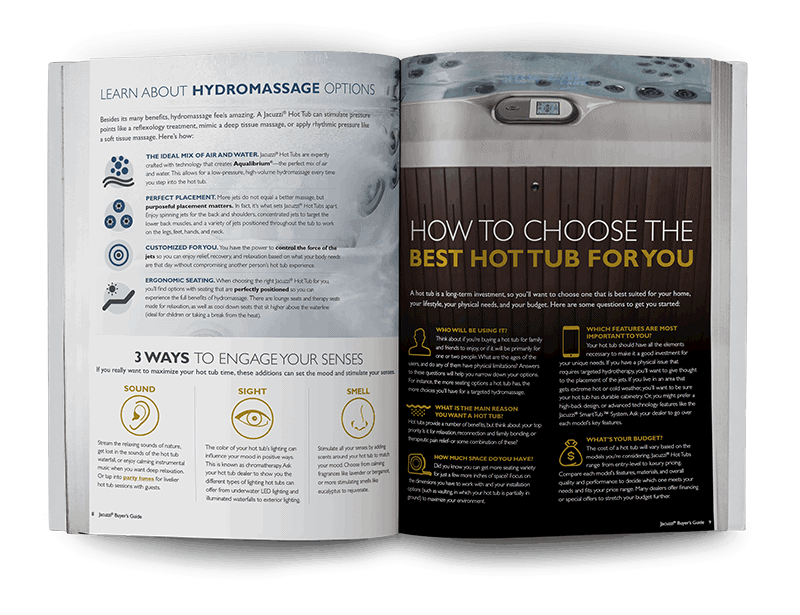 The Hanover™ spa features a bench seat and a variety of massage combinations. The jets purposely placed in highly-sculpted seats for the best results. With room for up to six adults, this spa is perfect for entertaining. The Hanover™ hot tub has everything from a jetted buddy seat to high and low impact massage combinations. This 780™ Series spa blends new technology with good old fashioned know-how.
The robust Accu-Pressure™ therapy seat will make muscle tension and joint pain fade away. This is due to the ample back coverage and targeted neck relief. The series-exclusive spiral-action, hands-on massage experience of the SMT seat eases tension in your neck and back. In the deep immersion seat, swirling jets deliver an experience similar to a deep tissue and trigger point massage.
You can count on the Vortex™ Jet for a truly comprehensive massage experience. Enjoy full-body, deep tissue massage to help ease muscle tension and joint pain. Many say they feel the positive effects long after they exit the spa.
Experience an elite hydromassage with the perfect combination of high-impact and low-impact streams of water with the Mini Vortex™ Jet. This robust jet creates a unique riffling action to target stiff muscles and is also adjustable to your liking.
Adjustable Accu-Pressure™ Jet
Enjoy more control over your therapeutic experience with the Adjustable Accu-Pressure™ Jet. This powerful jet targets various pressure points to ease stiff and tense muscles.
Bigger isn't always better, which couldn't be more true than with the SMT™ Micro Jet. Small yet mighty, this jet delivered a strong and targeted massage that helps to ease neck tension and stiffness.
The Accu-Pressure™ Jet applies deep-tissue massage to various pressure points, helping to relieve muscle tension and joint pain. Enjoy a truly comprehensive hydromassage every time you soak.
SmartTub™ Water Management System
Enjoy an advanced approach to hot tub ownership with the SmartTub™ System. Once connected via an app on your mobile device, you can control, monitor, and interact with your hot tub from afar. Whether on vacation or working late, you will always be informed when it comes to your hot tub.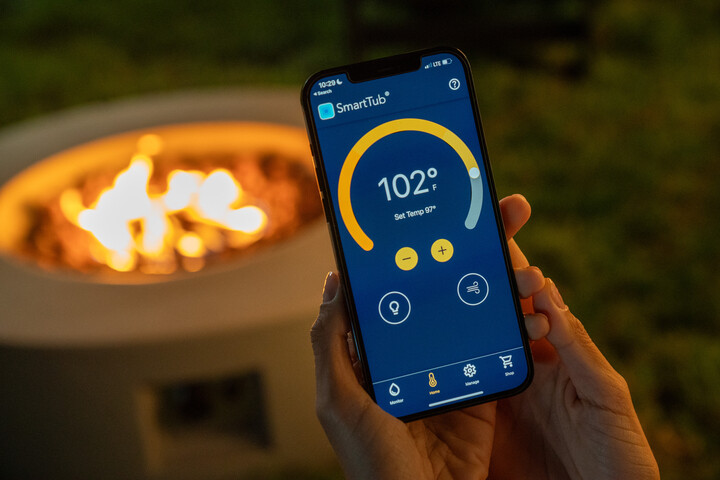 EcoWrap® Insulation helps to improve heat retention throughout your hot tub, resulting in lower operational costs and taking the pressure off your spa system. Combined with a high-quality cover, you can enjoy a premium spa experience at an affordable cost.
Your HotTub at your fingertips
Intuitive and user-friendly, sophisticated control panels enable full control over each hot tub and remove Wi-Fi monitoring.
The exclusive SmartTub™ System:
Easily connects to an app on your smartphone within seconds

The SmartTub™ System is equipped with the ability to connect to a LTE/4G network

Maximizes relaxation, recovery, and performance potential
Makes maintenance and care easer than ever
Offers easy access to product knowledge and support
Enables remote control of settings and features
Alerts your dealer when maintenance is required
Explore the 780™ Series from Sundance® Spas. This collection can be seen at our showroom in Ohio
Do you have a question about the cost of a certain product? Complete the form and a member of our team will be in touch with all of the pricing information that you need to get started.