Seats 7
TOTAL JETS
37
DIMENSIONS*
89" x 89" x 34" (226 cm x 226 cm x 86.4 cm)
DRY WEIGHT
813 lbs. (369 kg.)
TOTAL FILLED WEIGHT
4658 lbs. (2113 kg.)
AVERAGE SPA VOLUME
341 US gallons (1291 liters)
ELECTRICAL
240 VAC 60 Hz @ 50A or 60A
PUMPS
Primary:
Secondary:
FILTRATION
CLEARRAY® UV-C Technology + Filtration
FILTERS
MicroClean® Ultra Filtration System, 130 ft² (2 interlocking cartridge filters)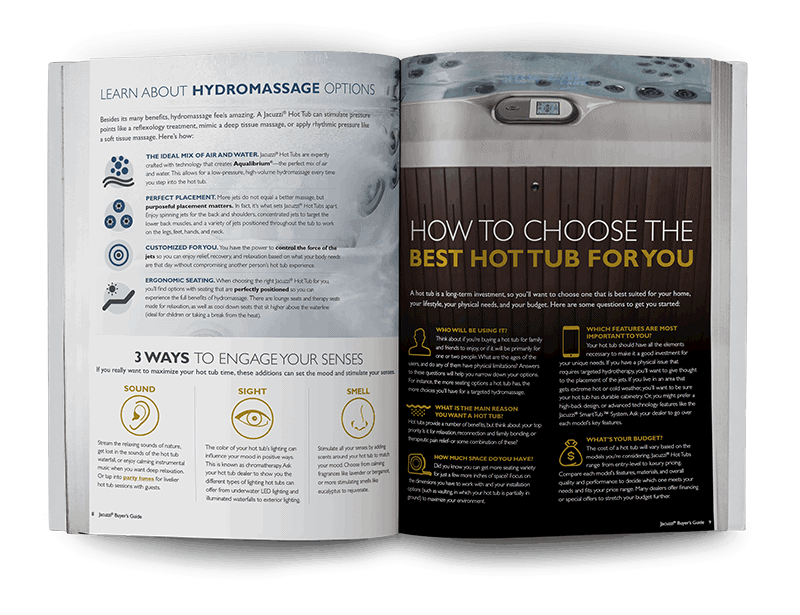 With seating for up to six adults, the evolutionary Odessa™ spa from the 980™ Series features breathtaking cabinetry. It is sure to change the way you use your spa. The crisp, rhythmic texture of the exterior cabinetry is illuminated corners that offer a touch of whimsy to the beautiful architecture. The spa's low profile and wide, flat-top rail also house a SunCooler cold storage area. The upgraded Accu-Ssage™ therapy seat provides a deep-tissue massage via Fluidix® massage jets. This ensures full-body immersion and relaxation.
Simultaneously soothe your muscles and senses in this spa. You can do this with the specialty Silent Air® injector jets and SunScents Aromatherapy. Talk about complete relaxation in your own backyard! The glowing Glass i-Touch Control allows you to enjoy your spa day or night. Its simple icon-driven menu is compatible with the SmartTub™ app. You can monitor and manage your spa from anywhere at any time. Best of all, CLEARRAY® UV-C Technology, a quick-drain feature, and the MicroClean® Ultra Water Management System ensure that maintaining your spa is always a breeze.
The Whirlpool Jet provides a deep tissue hydromassage with maximum massage coverage. Bold, adjustable, and vigorous, the Whirlpool Jet is known for deep-muscle penetration
Both powerful and adjustable, the Fluidix® Intelli-Jet™ offers a deep tissue hydromassage with maximum massage coverage. You can adjust these jets to meet your unique needs for a truly custom spa experience.
You can count on the Vortex™ Jet for a truly comprehensive massage experience. Enjoy full-body, deep tissue massage to help ease muscle tension and joint pain. Many say they feel the positive effects long after they exit the spa.
Enjoy a comprehensive massage experience that targets all areas of your body. The Fluidix® ST™ Jet creates a focused, deep-tissue jet stream that can be adjusted for both intensity and pressure.
The Accu-Pressure™ Jet applies deep-tissue massage to various pressure points, helping to relieve muscle tension and joint pain. Enjoy a truly comprehensive hydromassage every time you soak.
Integrated BLUEWAVE® stereo
Your HotTub at your fingertips
Intuitive and user-friendly, sophisticated control panels enable full control over each hot tub and remove Wi-Fi monitoring.
The exclusive SmartTub™ System:
Easily connects to an app on your smartphone within seconds

The SmartTub™ System is equipped with the ability to connect to a LTE/4G network

Maximizes relaxation, recovery, and performance potential
Makes maintenance and care easer than ever
Offers easy access to product knowledge and support
Enables remote control of settings and features
Alerts your dealer when maintenance is required
Explore the 980™ Series from Sundance® Spas. This collection can be seen at our showroom in Ohio
Do you have a question about the cost of a certain product? Complete the form and a member of our team will be in touch with all of the pricing information that you need to get started.