Seats 7
TOTAL JETS
47
DIMENSIONS*
89" x 89" x 37.5" (226 cm x 226 cm x 96 cm)
DRY WEIGHT
lbs. ( kg.)
TOTAL FILLED WEIGHT
5344 lbs. (2424 kg.)
AVERAGE SPA VOLUME
410 US gallons (1552 liters)
ELECTRICAL
240 VAC 60 Hz @ 40A, 50A or 60A
PUMPS
Primary:
Secondary:
FILTRATION
CLEARRAY UV-C Technology + Filtration
FILTERS
MicroClean Ultra Filtration System, 130 ft² (2 interlocking cartridge filters)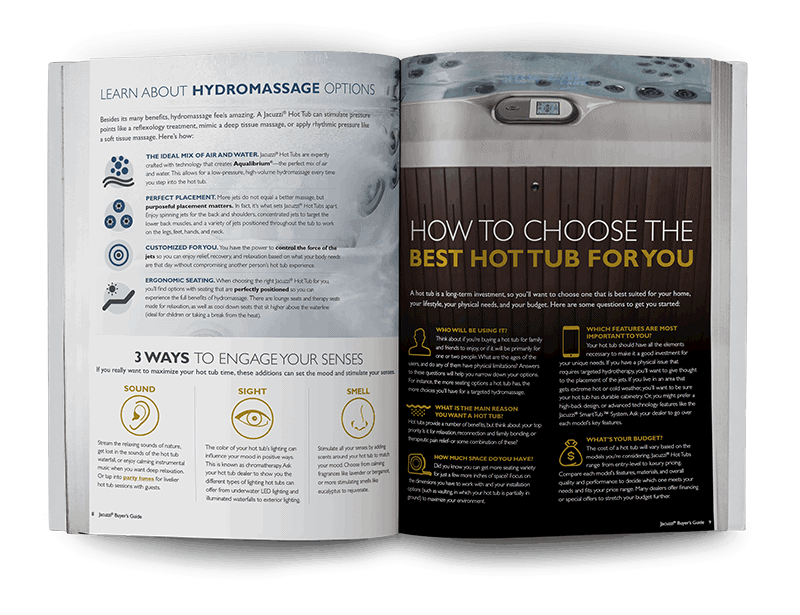 The Optima® spa has the best of everything, with room for up to seven adults and a variety of seat heights formed to fit diverse body types comfortably. And with unique Fluidix jet configurations and more massage therapy jets for the neck and shoulders than any other model, the 880™ Series Optima® spa model is our most popular non-lounge spa model.
Experience Fluidix jets, from soft, skin-soothing bubbles that deliver aromatherapy to deep tissue release. While the customer-favorite Accu-Ssage™ Seat is included in this spa, two unique jet configurations, with hip massage, make these seats exclusive to the Optima® model. A jetted foot dome also targets fatigued feet from any seat.
The Whirlpool Jet provides a deep tissue hydromassage with maximum massage coverage. Bold, adjustable, and vigorous, the Whirlpool Jet is known for deep-muscle penetration
You can count on the Vortex™ Jet for a truly comprehensive massage experience. Enjoy full-body, deep tissue massage to help ease muscle tension and joint pain. Many say they feel the positive effects long after they exit the spa.
The Accu-Pressure™ Jet applies deep-tissue massage to various pressure points, helping to relieve muscle tension and joint pain. Enjoy a truly comprehensive hydromassage every time you soak.
The Focus Relief® Jet applies a gentle, yet effective stream of water and bubbles to your pressure points for a deep-tissue massage. This concentrated hydromassage can provide you with whole-body relief from built-up muscle tension, stress, and strain.
Are you looking for relief from the discomfort of carpal tunnel syndrome in your wrists? The Pulsator™ Jet applies concentrated pressure to the muscles and joints in your wrist, easing pain and improving mobility by targeting the right pressure points.
The Silent Air® Injector Jet was made with your relaxation in mind. Not only can this jet target various stress-prone areas of your body, but it's also equipped with SunScents technology to create a healing experience with help from spa-friendly aromatherapy.
MicroClean® Ultra Filtration System
This advanced dual-stage interlocking filtration system traps finer particles in an inner filter after passing through an outer pleated filter, which catches the larger particles.
This extra-wide weir gate floats along the top of the water level, skimming more build-up than most other weir gates. The SlipStream™ Weir Gate is also compatible with SunPurity™ Minerals, providing your hot tub with additional sanitization.
Proprietary Horizontal Filter
What sets the Proprietary Horizontal Filter apart from other options is the horizontal position of the pleated filter, which strategically allows water to flow through the entire filter, removing even the smallest debris and contaminants. So you can count on a clean and clear soak, every time.
Each Sundance® Spas hot tub is equipped with an efficient heater to heat your hot tub as needed. The heating element warms the water, increasing thermal efficiency and preventing corrosion.
Sundance® Spas hot tubs are built with premium materials chosen with longevity in mind. The RigidBond™ Shell is no exception. The proprietary shell manufacturing process results in acrylic that is both stronger and more energy-efficient, by increasing thermal retention properties.
Tool-Free Access is included within the design of each Sundance® Spas hot tub to provide easier access when draining the hot tub, along with other critical components needed for maintenance. This approach can also help to save you time and makes maintenance a hassle-free process.
The Synthetic Base provides your Sundance® Spas hot tub with a solid foundation. Not only is this foundation impervious to nature and the elements, but it is built to last for many years to come.
The QuickDrain™ Feature allows you to drain the water from your hot tub quickly and efficiently, so you can get back to enjoying your hot tub and leave the maintenance in the past. Optional attachments can also be used to direct the dirty water far away from the spa during your drain, clean, and refill process.
Sundance® Spas are built with durability, longevity, and quality in mind, with no compromise on style. Stainless Steel Jet Trim helps to create a more sleek and stylish aesthetic, so your spa looks as good on the outside as it performs on the inside.
Control the various features of your hot tub with the stylish and user-friendly Glass iTouch Control Panel. Adjust the volume, turn on the jets, dim the lights, and even monitor the health and maintenance requirements of your hot tub with the simple push of a button.
Nothing completes the Sundance® Spas experience quite like the Wide-Sheet Waterfall. Sink deep into the luxurious water of your hot tub, while the calming sound from the waterfall transforms your soak into a truly tranquil experience.
SmartTub™ Water Management System
Enjoy an advanced approach to hot tub ownership with the SmartTub™ System. Once connected via an app on your mobile device, you can control, monitor, and interact with your hot tub from afar. Whether on vacation or working late, you will always be informed when it comes to your hot tub. The latest Smart Heat Mode also allows you to schedule and control the temperature of your hot tub automatically.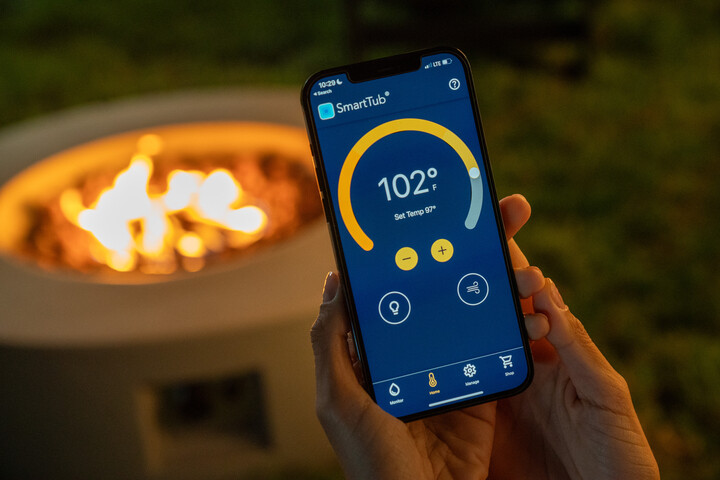 EcoWrap® Insulation helps to improve heat retention throughout your hot tub, resulting in lower operational costs and taking the pressure off your spa system. Combined with a high-quality cover, you can enjoy a premium spa experience at an affordable cost.
Integrated BLUEWAVE® Stereo
Access music on your smartphone with Bluetooth® audio. Comes with marine grade speakers, a subwoofer for deep bass, and wireless remote control. Auxiliary 3.5 mm input jack for MP3 players and USB power for your mobile device.
Your Hot Tub at your fingertips
Intuitive and user-friendly, sophisticated control panels enable full control over each hot tub and remove Wi-Fi monitoring.
The exclusive SmartTub™ System:
Easily connects to an app on your smartphone within seconds

The SmartTub™ System is equipped with the ability to connect to a LTE/4G network

Maximizes relaxation, recovery, and performance potential
Makes maintenance and care easer than ever
Offers easy access to product knowledge and support
Enables remote control of settings and features
Alerts your dealer when maintenance is required
Automatically schedule and control the temperature with the new Smart Heat Mode.
Do you have a question about the cost of a certain product? Complete the form and a member of our team will be in touch with all of the pricing information that you need to get started.