Seats 5
TOTAL JETS
20
DIMENSIONS*
78" x 68" x 32" (198 cm x 173cm x 81 cm)
DRY WEIGHT
lbs. ( kg.)
TOTAL FILLED WEIGHT
3120 lbs. (1415 kg.)
AVERAGE SPA VOLUME
254 US gallons (961 liters)
ELECTRICAL
120/240 VAC
PUMPS
Primary:
Secondary:
FILTRATION

FILTERS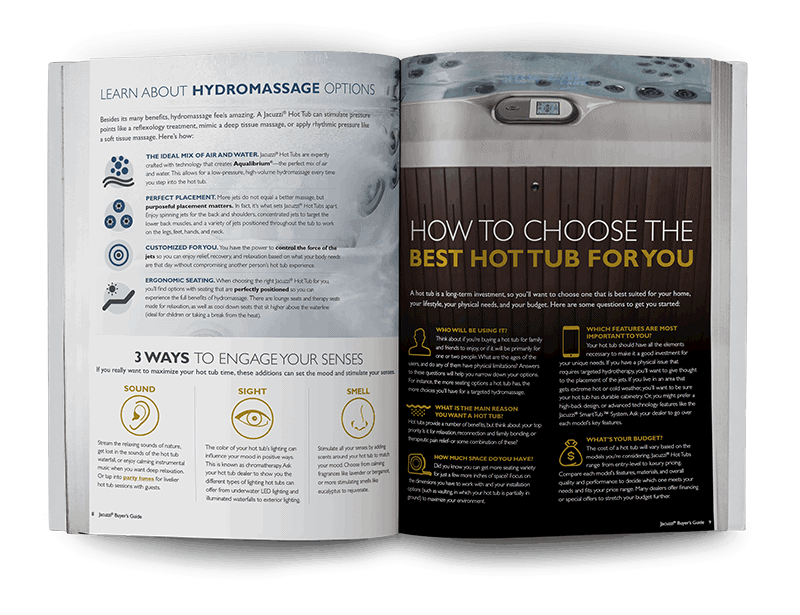 The Paisley™ hot tub was built with your relaxation and family time in mind. The sculpted and bench seating mix together perfectly, creating the perfect environment for conversation and quality family time. Sit back, relax and make memories with your family and friends that are sure to last for years to come.
With advanced features such as interior and exterior LED illumination, adjustable water fountain, comfort pillows and an easy-to-use control system, you won't want to ever exit the water. The Paisley™ is also equipped with full-foam insulation that is both supportive and energy-efficient, and a durable unibody construction that utilizes high-grade materials, resulting in a memorable spa experience that can last for many years to come.
Traditional Filtration System
Enjoy water that is both clean and safe with the Traditional Filtration System. As water flows through this filter, particles, debris, and other contaminants are caught and trapped, so you can easily remove them all at once when you clean the filter.
Sundance® Spas are built with durability, longevity, and quality in mind, with no compromise on style. Stainless Steel Jet Trim helps to create a more sleek and stylish aesthetic, so your spa looks as good on the outside as it performs on the inside.
Our 120V spas are easy to plug in, fill and enjoy; simply use existing electrical outlets without the need of an electrician.
Suite Package includes matching steps with storage, a handrail, and a cover lifter.
Do you have a question about the cost of a certain product? Complete the form and a member of our team will be in touch with all of the pricing information that you need to get started.