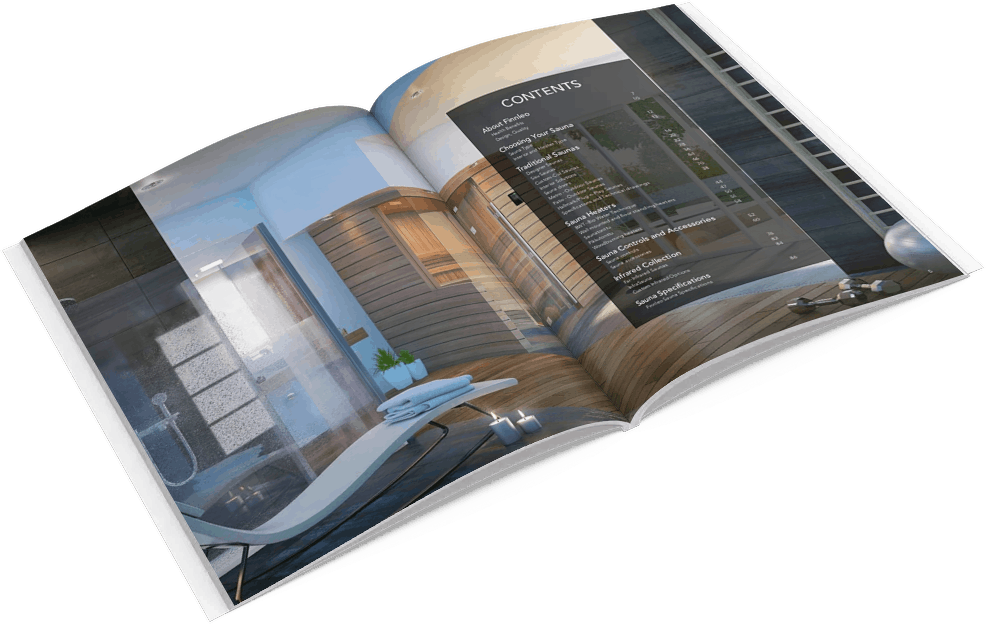 Sisu Panel-Built Series Features
Sisu saunas offer unlimited options, from personal size saunas to large club size saunas, making them equally ideal for private or public use. Custom designs and sizes are available as well, and interiors, windows, doors and much more can be personalized with a wide variety of options.
Abachi is used extensively throughout the sauna — wherever skin touches wood — on benches, backrests, head rests and door handles. Abachi wood remains comfortable to the touch even at high temperatures, resists stains and odor absorption, and has no knots or splinters. It is the ultimate sauna bench material, and is used in the finest saunas of Europe.
You can personalize your sauna with any number of available options including:
• Deluxe interiors
• Deluxe "Sunburst" interiors
• Bronze tinted sidelite windows (tempered insulated glass)
• Special doors, including Finnleo 's popular all-glass door or etched glass door
• Custom-designed dramatic angles
• Saunatonttu or Pikkutonttu heater upgrades
Choose from several door and window styles to personalize your sauna and give it the look you want. Door options include:
• Clear Canadian Hemlock door with traditional window
• Clear Canadian Hemlock door with window and grids
• All-glass door (standard)
• Etched all-Glass door with birch leaf design
• Etched birch leaf door with negative image
• Satin all-glass door for privacy
• Sidelight window options in multiple panel locations or tint options
All doors are prehung and include handles and preinstalled latching system.
All Sisu Packages Include:
• Prebuilt benches, backrests, headrests, heater guard and duckboards
• Prebuilt, prefitted wall and ceiling panels — all completely blind nailed, Nordic White Spruce, Cedar or Hemlock interior and exterior
• Prehung all-glass door, hinged left or right, premounted in its own panel
• Heater, rocks, bucket, ladle, light, thermometer and necessary hardware
• Manufactured in the USA by Finnleo
• Quick and easy assembly make Sisu the clear choice
Options Available:
• Sound System
• Cedar or Clear Canadian Hemlock
• Heater Upgrades: Pikkutonttu, Saunatonttu, Digital
• Sunburst Interior for all saunas 5' and larger
The Sisu & Hallmark Series
Explore the Sisu & Hallmark Series from Finnleo Saunas. This collection can be seen at of our location in Hilliard, Ohio.
Do you have a question about the cost of a certain product? Complete the form and a member of our team will be in touch with all of the pricing information that you need to get started.