Seats 6
TOTAL JETS
45
DIMENSIONS*
90" x 90" x 37" (229 cm x 229 cm x 93 cm)
DRY WEIGHT
807 lbs. (366 kg.)
TOTAL FILLED WEIGHT
5227 lbs. (2371 kg.)
AVERAGE SPA VOLUME
420 US gallons (1590 liters)
ELECTRICAL
240VAC 60 Hz 40A, 50A or 60A
PUMPS
Primary: 2 speed, 2.5 continuous hp (4.5 brake hp*)
Secondary: 2 speed, 2.0 continuous hp (2.6 brake hp*)
FILTRATION
Classic filtration
FILTERS
1 - 50 sq ft filter (hydro)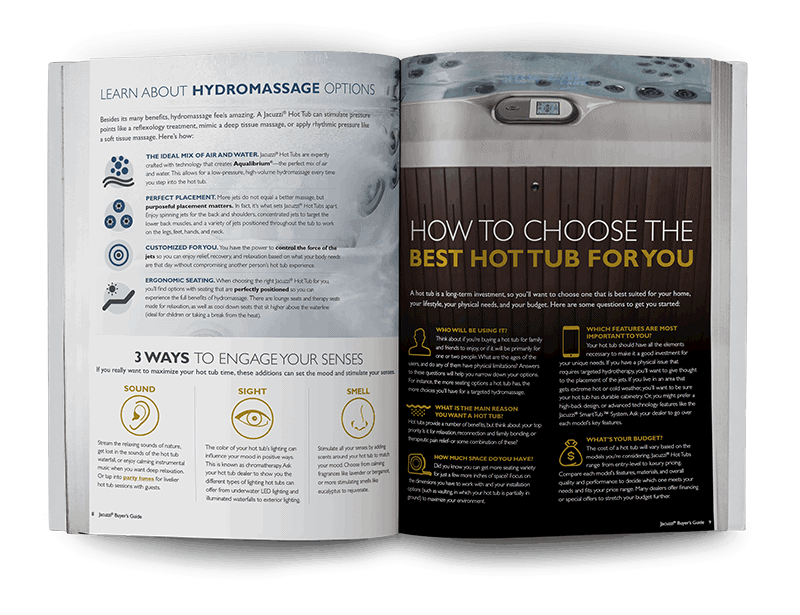 With room for up to seven adults, the J-275™ Hot Tub features powerful ClassicPro™ jets and lounge seating for an enjoyable full-body hydromassage experience. When you're in search of an affordable yet inviting hot tub that seats up to six adults, look no further than the J-275™ Hot Tub. This model features powerful ClassicPro™ jets, boasting six robust Rotational Jets and lounge seating.
With enough room to comfortably relax and rejuvenate, interior lighting and a soothing waterfall help to create the ultimate oasis within your price range. We also feature other models in the J-200™ Collection to provide you with a vast selection certain to match your preferences and budget.
Classic & ClassicPro™ Jets
The Classic and ClassicPro™ Jets set the standard for jet technology in each Jacuzzi® Hot Tub. Each jet creates the perfect combination of air and water, so you can enjoy the benefits of gentle and continuous pressure being applied to various pressure points, knots, and tense muscles.
CLEARRAY® Active Oxygen™ System
Standard on all new Jacuzzi® Hot Tubs, CLEARRAY® Active Oxygen™ harnesses the natural, safe and effective power of oxygen and light to treat the water, keeping it cleaner and safer for longer. Monitor and control this water management system with help from the digital controls or your smartphone app.
2-Stage Filtration System
The 2-Stage Filtration System works hard to catch and remove contaminants and sanitize the water, contributing to a safe and more enjoyable hot tub experience. Large debris is trapped for easy removal, so you don't have to spend time manually skimming the water.
Built with comfort in mind, the standard headrests in your Jacuzzi® Hot Tub support your head with an ergonomic design, taking the strain off your shoulders, spine and upper back. These headrests contribute to your spa experience by giving your body the chance to completely relax and let go of built-up tension.
The diverter knobs in your Jacuzzi® Hot Tub offer dual-purpose functionality, as they can double as a secure drink holder for added convenience, while also allowing you to change the style and highlight a stream of swirling water. Most plastic reusable water bottles and tumblers fit perfectly into each drink holder.
The SmartTub™ System can help you take an advanced approach to hot tub ownership. Connected via an app, you can monitor, control and interact with your Jacuzzi® Hot Tub from afar. Not to mention access to a number of helpful resources and support. The latest Smart Heat Mode also allows you to schedule and control the temperature of your hot tub automatically.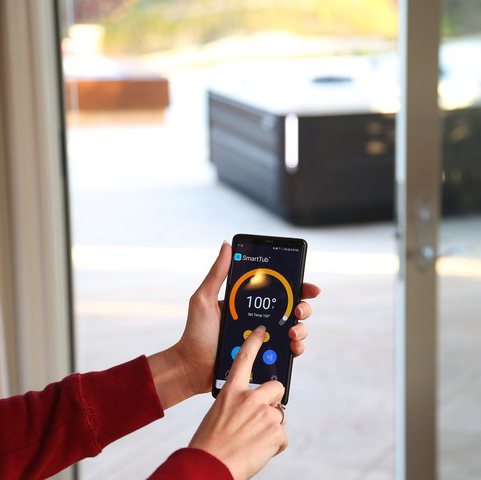 Your HotTub at your fingertips
Intuitive and user-friendly, sophisticated control panels enable full control over each hot tub and remove Wi-Fi monitoring.
The exclusive SmartTub™ System:
Easily connects to an app on your smartphone within seconds

The SmartTub™ System is equipped with the ability to connect to a LTE/4G network

Maximizes relaxation, recovery, and performance potential
Makes maintenance and care easer than ever
Offers easy access to product knowledge and support
Enables remote control of settings and features
Alerts your dealer when maintenance is required
Do you have a question about the cost of a certain product? Complete the form and a member of our team will be in touch with all of the pricing information that you need to get started.