Seats 3
TOTAL JETS
21
DIMENSIONS*
80" x 69" x 32" (175 cm x 193 cm x 84 cm)
DRY WEIGHT
517 lbs. (235 kg.)
TOTAL FILLED WEIGHT
2936 lbs. (1332 kg.)
AVERAGE SPA VOLUME
205 US gallons (776 liters)
ELECTRICAL
120VAC 60Hz 15A / 240 VAC 30A or 40A
PUMPS
Primary: 2 speed, 1.5 continuous hp (4.5 bhp*)
Secondary: N/A
FILTRATION
ProClassic™ filtration system with grill and ProCatch™ bag
FILTERS
1- ProClassic™ 50 sq ft filter and 1- ProCatch™ filter bag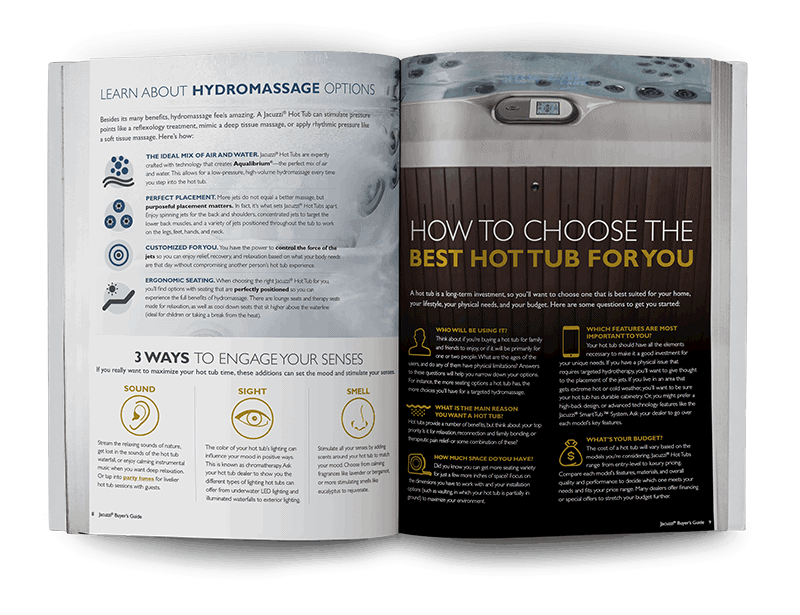 The J-215™ Hot Tub is ideal for patios or small spaces. This low-profile lounge model accommodates up to three adults and features jets that provide a powerful massage, with a mix of lounge and side-by-side seating for comfort and flexibility.
The diverter knobs in your Jacuzzi® Hot Tub offer dual-purpose functionality, as they can double as a secure drink holder for added convenience, while also allowing you to change the style and highlight a stream of swirling water. Most plastic reusable water bottles and tumblers fit perfectly into each drink holder.
Proprietary Jets with Stainless Steel Accents
The proprietary jets are designed to strategically target the most stress-prone areas of your body. They apply soothing pressure to areas that need it most, creating a relaxing experience.
Easily access the important areas and parts of your hot tub with help from cabinetry that's designed with a tool-free approach. In a few simple steps and little strain on your body, you can quickly open the cabinet without tools for regular service, cleaning, maintenance, and repair.
While you can't see it, you're sure to experience it. The CLEARRAY®® Water Management System uses ultraviolet light to sanitize the water. It works instantly and simply, with 99.9% of waterborne bacteria being neutralized within seconds of water entering the system. Enjoy a simplified approach to hot tub ownership and maintenance.
Patented ProClassic™ 50 sq ft Filter
No hot tub experience is complete without the right approach to filtration. The patented ProClassic™ Filter can help to remove dirt, debris and other contaminants from your spa. With easy to clean parts and a superior design, this filter can keep your water cleaner for longer and adheres to a less frequent replacement schedule.
2-Stage Filtration System with ProCatch™ Filter Bag
Enjoy the benefits of water that has been filtered and cleaned using an innovative filtration process. This Jacuzzi® Hot Tub is equipped with a cutting-edge 2-stage filtration system, complete with a ProCatch™ Filter bag. You can enjoy a more hassle-free approach to filtration and maintenance.
Comfortable Backlit Headrests
Sit back, relax and allow your Jacuzzi® Hot Tub to handle the rest. The ergonomic seats inside this spa are equipped with comfortable headrests that can allow you to completely let go of tension and let the jets work their magic. Each headrest is backlit, adding to the relaxation, ambiance and appeal of your hot tub.
Multi-Colored LED Lighting
Boost the ambiance of your next soak with multi-colored LED lighting! Perfect for a solo hydrotherapy experience or spending time with family and friends, you can adjust the settings based on your preference. With LED technology, these lights are built to last longer and operate at a wallet-friendly price.
Stunning exterior lights are installed into each Jacuzzi® Hot Tub. Each light complements the spa with a warm glow that truly elevates the style and appeal of your installation and outdoor space. Crafted with LED technology, these exterior lights are built to last longer and cost less to operate.
Your Hot Tub at your fingertips
Intuitive and user-friendly, sophisticated control panels enable full control over each hot tub and remove Wi-Fi monitoring.
The exclusive SmartTub™ System:
Easily connects to an app on your smartphone within seconds

The SmartTub™ System is equipped with the ability to connect to a LTE/4G network

Maximizes relaxation, recovery, and performance potential
Makes maintenance and care easer than ever
Offers easy access to product knowledge and support
Enables remote control of settings and features
Alerts your dealer when maintenance is required
Automatically schedule and control the temperature with the new Smart Heat Mode.
Do you have a question about the cost of a certain product? Complete the form and a member of our team will be in touch with all of the pricing information that you need to get started.