Seats 3
TOTAL JETS
13
DIMENSIONS*
84" x 62" x 34" (213 cm x 157 cm x 86 cm)
DRY WEIGHT
416 lbs. (189 kg.)
TOTAL FILLED WEIGHT
lbs. ( kg.)
AVERAGE SPA VOLUME
240 US gallons (908 liters)
ELECTRICAL
110V (GFCI Cord Included) 15A
PUMPS
Primary: (1) 1hp Continuous duty
Secondary:
FILTRATION

FILTERS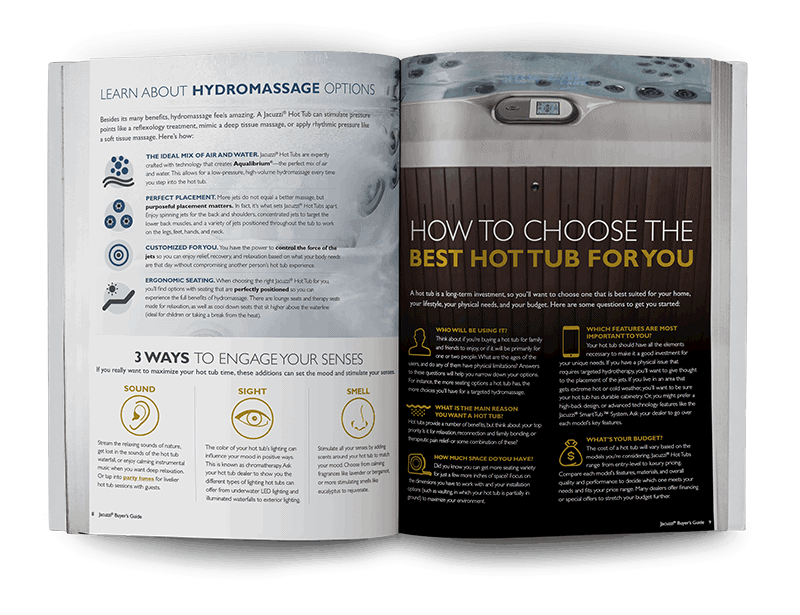 Stella All-In-110V™ Overview
Plug-N-Play hot tub with seating for 3. It comes with our No-Float lounger™, Nordic Wrap™, and Nordic Clean™ ozone standard.
Stella All-In-110V™ FEATURES
Dual Therapy System (DTS™)
Enjoy the ultimate experience in hot tub therapy with the Dual Therapy System (DTS™) Jets. Each jet delivers the perfect combination of high-volume whirlpool flow and targeted direct pressure to help ease tension, soothe pain and reduce stiffness.
Nordic Star™ Stainless Steel Jets
The adjustable Nordic Star™ Stainless Steel Jets can provide you with a customized hydromassage. Pressure from the high-flow jets targets stiff muscles and pressure points, helping to ease tension, soothe pain and improve circulation.
With Permawood™ Cabinetry, you won't have to worry about peeling, cracks, or delaminating. This cabinetry is also covered by a 10-year limited warranty.
Durable and stylish, the Permashell™ Shell is available in a range of different styles, matching the elements and surroundings of any backyard space. Backed by a limited lifetime warranty, this spa shell can truly stand the test of time.
LED illumination creates maximum visibility for all areas of the hot tub. Both interior and exterior lights are installed throughout to create a safer, functional, and more enjoyable spa experience. These LED lights are added to waterfalls, jets, cupholders, siding, and edges.
Nordic Cascade™ Waterfall
The Nordic Cascade™ Waterfall is the gateway to a truly relaxing and revitalizing spa experience. Turn the waterfall on or off as you see fit using the LED Display Control Panel. Turn on the LED lights for added illumination.
Explore the All-In-110V Series from Nordic Hot Tubs™. This collection can be seen at our showroom in Ohio
Do you have a question about the cost of a certain product? Complete the form and a member of our team will be in touch with all of the pricing information that you need to get started.