Seats 5
TOTAL JETS
20
DIMENSIONS*
78" x 68" x 32" (198 cm x 173cm x 81 cm)
DRY WEIGHT
lbs. ( kg.)
TOTAL FILLED WEIGHT
3120 lbs. (1415 kg.)
AVERAGE SPA VOLUME
340 US gallons (1287 liters)
ELECTRICAL
Convertible 120 VAC 60Hz @15A or 240 VAC@30A, 40A
PUMPS
Primary:
Secondary:
FILTRATION

FILTERS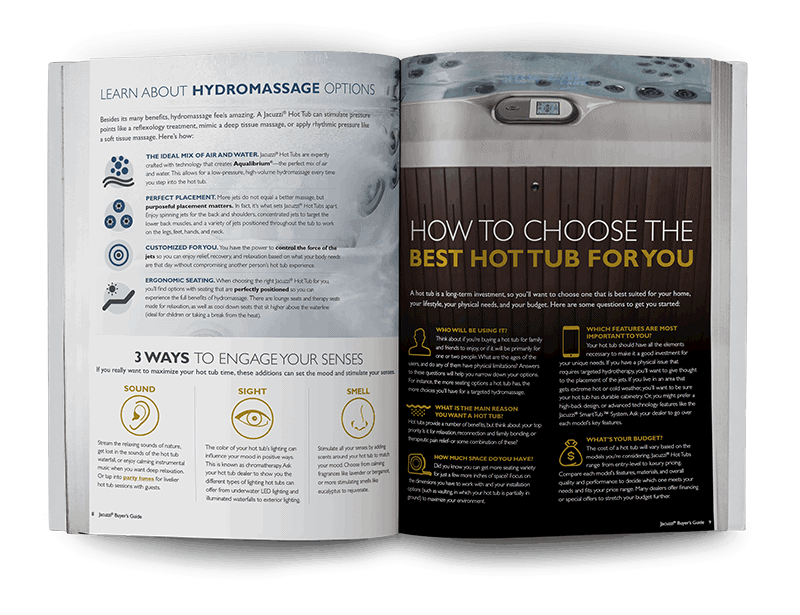 Equip your home and backyard with a hot tub built for years of healing hydrotherapy. Enjoy an affordable price with no compromise on style or quality. This 5-person hot tub offers the perfect combination and sculpted and bench seating, for the ultimate experience in both flexibility and comfort. With an easy-to-install Plug n' Play option, you can install this hot tub just about anywhere in your backyard or indoor space.
For added ambience, you can enjoy adjustable stainless steel 2-tone jets, an adjustable water fountain with LED lighting, an LED-illuminated footwell, comfortable pillows, and exterior corner lights. With a user-friendly digital control system and full-foam insulation, you can benefit from lower heating costs for years to come. The Jacuzzi® Mood™ Hot Tub by the Jacuzzi® Play™ Collection is available as part of the Suite Package. This package includes matching steps with storage, a handrail and a cover lifter. It is available only at the time of purchase.
Play™ Collection Headrests
Built with comfort in mind, the standard headrests in your Jacuzzi® Hot Tub support your head with an ergonomic design, taking the strain off your shoulders, spine and upper back. These headrests contribute to your spa experience by giving your body the chance to completely relax and let go of built-up tension.
Play™ Collection Controls
Jacuzzi® Hot Tubs are equipped with a user-friendly digital control panel, perfect for operating the various features and controls of your hot tub. The LED illumination can help to improve visibility and create a more user-friendly experience, especially once the sun goes down.
ProLast™ Extreme Outdoor Cover
The ProLast™ Extreme Outdoor Cover fits and seals the top of your hot tub perfectly, keeping operational costs low through premium insulation and water clean by preventing debris from entering the spa. Not to mention that each cover is custom fit and built with durable materials, for an effective and long-lasting experience.
Do you have a question about the cost of a certain product? Complete the form and a member of our team will be in touch with all of the pricing information that you need to get started.